Career Services Events
Career Services Programs
Spring 2021
Getting the Most from a Virtual Career Fair
Discover how to effectively prepare for a virtual career fair! Virtual career fairs are similar to traditional fairs in many ways, but they are different in ways that mean you will need to prepare carefully for the big day.
In this webinar, librarian Henrietta Verma of Vault will discuss topics including how to prepare for a virtual fair, what to expect when you log in, and how best to engage with employers in attendance. Students and alumni will hear about how to write an "elevator pitch" about themselves and set up follow-up contact with employers at the fair.
As well as receiving general advice on virtual career fairs, students and alumni will learn how to use CUNY's Vault subscription to do company and industry research to be ready for conversations with employers.
Date: Tuesday, June 8, 2021
Time: 6:00 - 7:00 p.m. EST
---
CUNY SPS Virtual Career Fair
Join us for a Virtual Career Fair! Participation is easy and registration is free to both employers and jobseekers.
Date: Thursday, June 17, 2021
Time: 11:00 am - 2:00 p.m. EST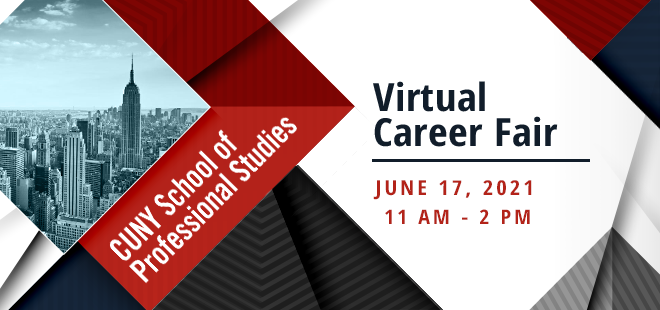 // Check if we have a right sidebar. ?>