Book Talk: Everything is an Emergency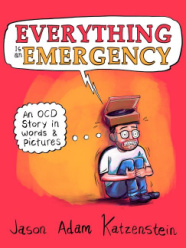 In recognition of OCD Awareness Week, the CUNY SPS Abilities and Resources Committee welcomes author Jason Adam Katzenstein for a discussion of his recent book, Everything is an Emergency: An OCD Story in Words and Pictures.
Jason Adam Katzenstein is a cartoonist and writer for print and television. His work has appeared in The New Yorker, the New York Times and MAD Magazine, and on Cartoon Network. He is the illustrator of The White Man's Guide to White Male Writers of the Western Canon and the graphic novel Camp Midnight. He is also a visiting professor at Wesleyan University.